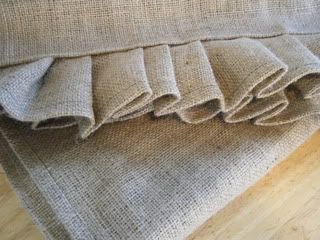 Chic, Ruffled Burlap Table Runners.
This tutorial is based on an 8ft x 3ft table.
Materials:
10 oz. Burlap
Sewing Machine
Scissors
Iron (To iron hems for easier sewing.)
**I don't know specific "skill ratings" but I have novice sewing skills (I can barely sew a straight line) and after getting through the first one, the rest were easy.**
Instructions:
*Cut material to measure 20in x 10ft2in.
*Hem each long side in 1in, so width now equals 18in.
*Fold over ends 1in, pin, but do not sew yet.
*Cut 2 pieces for ruffle 6in x 40in each.
*Sew 1in hems on both short ends and one long end of ruffle pieces.
*Pin several pleats along unhemmed edge of ruffle pieces, until piece is 17in wide.
*Sew along pinned edge.
*Remove pins. Pleats will "let out" a bit and the pleated piece will then be about 18in long.
*Pin ruffle with 1in overlap onto end of runner pieces that were previously pinned.
*Sew ruffle to end of runner - one on each end.
The material was purchased online through Northwest Upholstery for $1.20/yd for 30 yards. Total cost for one runner is under $4. (Note also, that the fabric is 40in wide, so two runners can be made from one width.)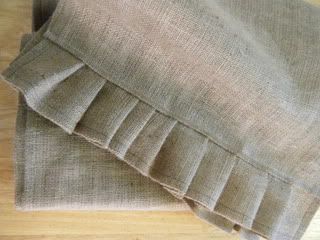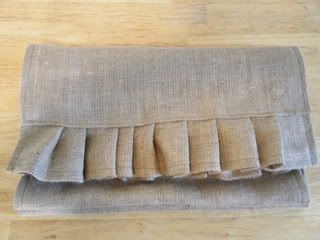 I also made these from a geometric print, purchased at IKEA called Petronella. The fabric was pre-hemmed, 18 inches wide (score!) and on clearance for $0.99/yd (double score!)
Here's a couple photos of those.
Our runners have also been featured at
WeddingChicks.com
.